Communications Director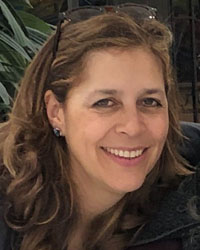 As the Communications Director for ADA Supreme, Rose Rossier's career spans over 30 years. Her extensive background covers: journalism (writing on disability, health and wellness for the Christopher and Dana Reeve Foundation), research, advertising and marketing, multimedia production, public relations and education.
Rossier comes from a family of educators. Her father was an English teacher at the high school level; while her mother was a Special Education teacher for the deaf, hard of hearing and other disabilities.
Both parents were advisors to the federal and state governments. And, the USC Rossier School of Education was named in honor of her aunt and uncle whose generous donation helped raise the school's profile to the elite status it holds today.
However, Rose did not choose education as her field of study. Instead, she majored in Advertising, starting out at a boutique ad agency in London, England while attending Imperial College and the University of London.
She graduated from Cal State University at Fullerton with a B.A. in Communications, with honors. She then went on to hold positions at United Artists producing television commercials, Landmark Networks marketing the Weather Channel and the Travel Channel and Nielsen Television Ratings overseeing accounts in the western United States.
Having learned the nuts and bolts of business, Rose then set her sights on more creative pursuits. She shifted her focus from marketing products, services and media to creating them.
She jumped into writing for TV and film and sketch comedy for live theater. Rossier even studied acting and performed in many theatrical productions throughout Los Angeles.
In 2005, one week after Christopher Reeve passed away, Rose was hired by the Christopher and Dana Reeve Foundation as a Content Developer. One of her first assignments was to write the "Go-to" piece, an in-depth article that Dana Reeve promoted in her interviews on her press junket tour after Christopher's death. It was a primer on pressure sores and provided the details about his death.
While at the Reeve Foundation, Rose worked on hundreds of articles and short documentary films as a writer-producer. As a result, she learned about the countless challenges people with mobility issues have. She also learned about the health concerns, physical hurdles, emotional and psychological stress and the accessibility mountains people with disabilities face daily.
In 2010, Rose left the Christopher & Dana Reeve Foundation after the sudden death of her mom. She paused her career to assist her dad who was diagnosed with a rare neurological condition called Shy-Draeger Syndrome. She cared for him until his passing.
Rossier then worked in freelance writing and teaching jobs, adding more knowledge and experience to her repertoire.
Rose sums up her experience with these words, "While education and jobs have always given me the tools and knowledge I need to do my work; people like my mom and dad and people with major challenges who I've met over the years have given me the inspiration and wisdom to make a difference."