About Us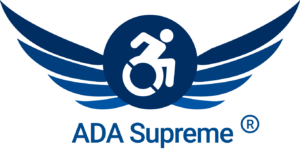 ADA Supreme is a business-to-business access consulting company that offers a myriad of services to help companies: comply with the Americans with Disabilities Act (ADA), avoid frivolous ADA lawsuits and protect bottom lines from grievances, litigation and negative publicity.
In addition, ADA Supreme educates and arms companies with the facts and knowledge to address matters of employment, under Title I, and public accommodations issues, under Title III.
In essence, ADA Supreme acts as a bridge between business-clients and the ADA and between companies and people of all abilities.
Our Mission
ADA Supreme's Mission is: To keep disabled people safe and companies healthy.
Our Vision
ADA Supreme's Vision is: To remove the physical, social and financial barriers that separate businesses, agencies and institutions from people with disabilities… to ensure accessibility, freedom, good will and prosperity for all.
Why We Love What We Do
ADA Supreme was founded by our CEO Joe "pepe" Martinez. Joe is a quadriplegic lion of a man with a heart of gold that is on a mission to not only make sure all people have equal access in person and online, but to also make sure businesses are protected from frivolous lawsuits that can be avoided with the right guidance and care. Mr. Martinez, or Joe as his friends and colleagues call him, got in his accident on August 23, 1977 when he was surfing the Pacific coast one chilly morning catching some of the best waves. Joe has since then fought hard for civil rights and has become a successful businessperson, a loving family man, and proactive member of society.
Joe has put together a team of Accessibility compliance professionals, lawyers, and website developers to create the most respected and informed company in the industry. This team's main goal is to protect the handicapped community by working with the private and public sectors to ensure they are compliant and practicing inclusion. This team of dedicated professionals make up what is ADA Supreme.